Bali, the Island of Gods, is more than just stunning beaches and culture; it also has a multitude of fun activities that won't break the bank. You've come to the right place if you're looking for things to do in Bali without the pompous price tag.
People Also Read: Renting A Car In Bali: Here's The Complete Guide For You
7 Top Things to Do in Bali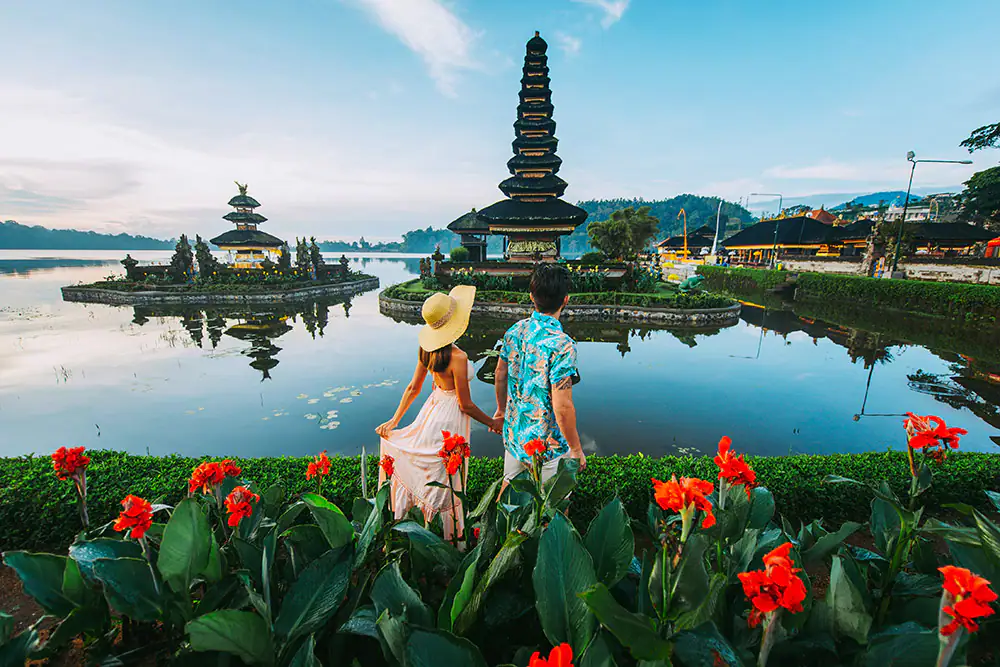 Photo credit: ncl.com
This Bali bucket list is all about having an authentic and budget-friendly vacation, from water temples to beautiful rice terraces. Let's take a look at seven must-do activities in Bali that will make your vacation unforgettable.
1. Find zen at a water temple
Regardless of your religious beliefs, visiting temples in Bali has long been one of tourists' favorite activities. The island is dotted with beautiful water temples that provide a peaceful and spiritual experience.
Tanah Lot and Ulun Danu are two water temples that stand out among them. Ulun Danu, hidden in the gorgeous Bratan Lake, and Tanah Lot, positioned spectacularly on a rocky outcrop, invite visitors to experience Bali's rich cultural legacy and find inner serenity in their calm settings.
2. Explore the different shades of rice terrace
A visit to Bali's stunning rice terraces gives a quiet getaway from the rush and bustle of the island's lively scenery. Jatiluwih Rice Terraces in North West Bali and Tegalalang Rice Terraces in Ubud are two must-see terraces. Both offer a serene experience among the beautiful emerald-green scenery.
The broad rolling hills offer a lovely and soothing ambiance, especially when you come here early in the morning or late in the day. It's the ideal setting for solitude among the island's natural beauties.
3. Try a unique floating breakfast
The floating breakfast is no doubt one of the unique things to do in Bali. It's an Instagram sensation that deserves a particular spot on your bucket list. Ubud, which is surrounded by beautiful forests, is at the hub of this trend, with lodgings offering this luxurious experience.
Regardless of your budget, you can get the experience of a luxurious floating breakfast while in Bali. This one-of-a-kind concept has spread around the island, making it one of the most sought-after experiences in Bali accommodations.
4. Experience sunrise at Bali's active volcano
Are you an adrenaline seeker? Then trekking to the peak of Mount Batur is your must-thing to do in Bali. You may need to start early, around 4 a.m., for this activity, but the payoff is a memorable experience that will live on in your memories.
As the sun rises over the mountain, you'll see a sea of clouds swallowing the landscape, a spectacle unlike any other in the world. This sunrise climb provides a one-of-a-kind sensation of accomplishment and amazement, making it one of the most memorable things to do in Bali for adventurers.
5. Capture Bali's sunsets
Bali has a plethora of breathtaking sunset places to suit every taste. Bali has it all, whether you want a beach view with fashionable drinks or a serene location near the majestic Mount Batur. Enjoy the beach sensations while relaxing by an infinity pool at The Lawn.
Alternatively, Warung Sunset Point Amed offers serenity, while Munduk Moding Plantation offers the splendor of a sunset while sinking your toes into the infinity pool. Every soul may find a sunset experience in Bali.
6. Immerse yourself in the blue water of the Gili Islands
Don't miss out on the charm of the Gili Islands—Gili Trawangan, Gili Meno, and Gili Air. Located around 35 km from Bali, each of the Gili Islands has its own distinct personality. Whether looking for a peaceful beach for relaxing, excellent diving, or lively parties, Gili Islands have it all. Although much closer to the Nusa Islands, these unspoiled paradises are frequently included in itineraries that tour Lombok, Bali's neighboring island.
7. Chasing Balinese waterfalls
A waterfall trip is a must-do on your Bali travel itinerary. Here, you will be blessed with a choice of 11 distinct waterfalls to pick from. If you're looking for tranquil waterfall spots, you can head to Ubud or the North and Central Bali. These three locations provide tranquility and are ideal for swimming and capturing memories.
Bali's appeal extends beyond its beautiful beaches and diverse culture. These seven things to do in Bali highlight the island's calm side, exhilarating experiences, and tranquil moments you'll remember forever. Furthermore, Bali is fairly inexpensive, making it an ideal getaway for those on a tight budget.
People Also Read: 5 Best Restaurants In Bali: Dining With Spectacular View
To make the most of your vacation, consider using Flip's Flip Globe. It's a money transfer service that enables you to transfer funds from Indonesia to 55+ countries. It offers affordable transfer fees, the best rates, and of course, a secure and efficient transfer process.