What place in Bali is perfect for going on a bargain-hunting spree while experiencing authentic island life up close? From souvenir hunting to local delicacies savoring, a local market in Bali lets you get lost in the hustle and bustle of the local spirit in a good way.
Those markets are the living proof of Balinese wealth – local art, rich culture, fresh produce from extensive farms and paddy fields, dynamic oceans, talented craftsmen, and artisans.
Yes, Bali has everything for you, including the day markets, Sunday markets, night markets, and other specialized local markets. Let's check them out.
People Also Read: The Best Mall In Bali: Haven For Ultimate Shopping Experience
Local Market for Arts and Souvenirs Hunting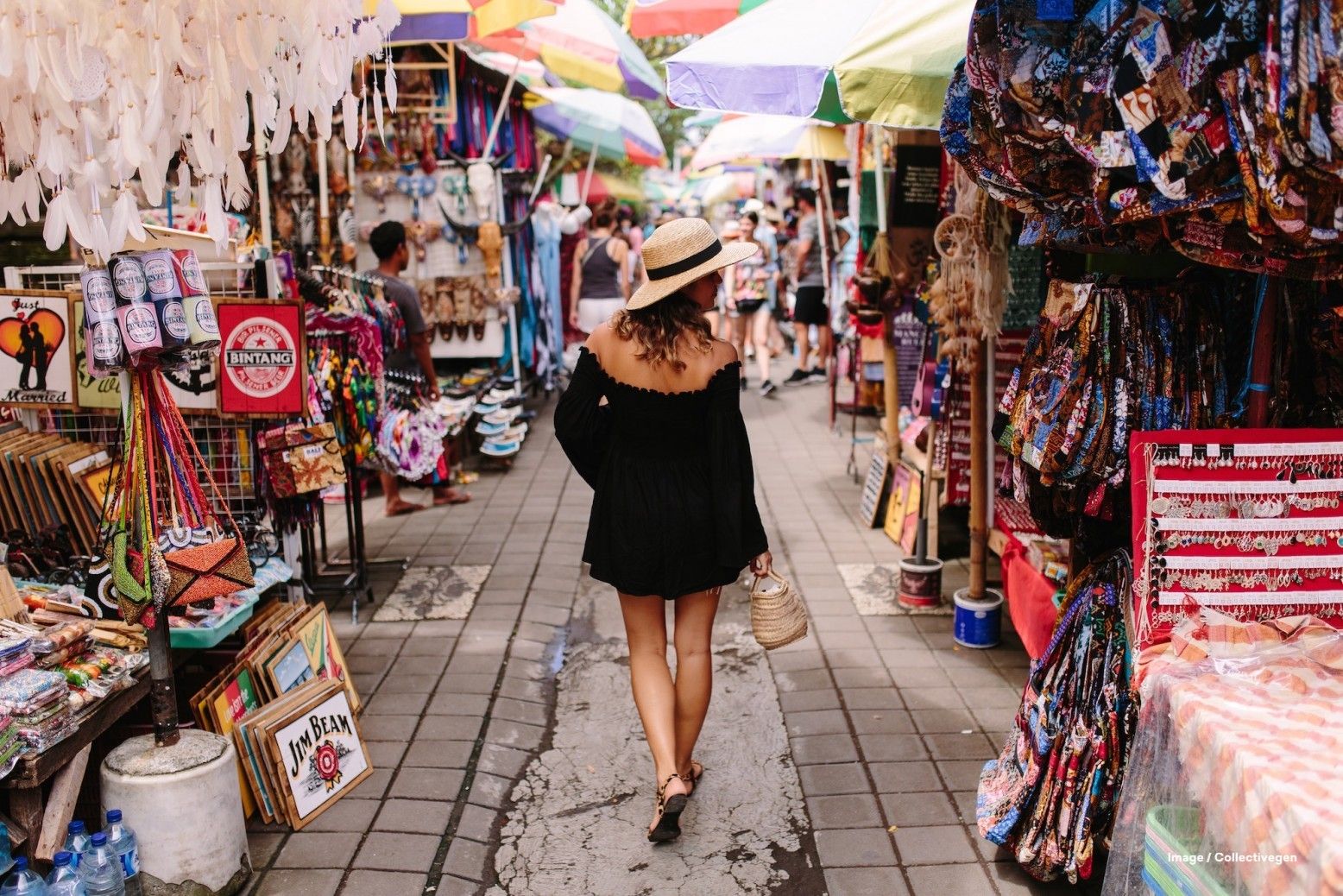 Photo by The Ungasan
Looking for something unique as keepsakes from Bali? These traditional markets popularly specialize in local artisan goods, handicrafts, carvings, paintings, ceramics, Balinese-style clothing, and the like.
In addition, satisfy the shopping appetite inside of you at the markets by searching for vintage fashion, jewelry, eco-friendly products, home furnishings, as well as secondhand goods.
1. Art Market of Kuta Traditional Village
Kuta Art Market is perfect for local souvenir shopping – Balinese t-shirts, sarongs, fabrics, sandals, surfboard-shaped magnets, etc.
Tired of hopping from one stall to another, take a rest at a line of cafes or restaurants available, or don't miss the more vibrant atmosphere of the night market as well.
2. Love Anchor Bazaar Market, Canggu
A popular shopping hub in a unique wooden design, Love Anchor is open only on weekends – Saturday and Sunday. Not only a fab market for fashion and jewelry, it also houses colorful restaurants and organic coffee.
Head to Jalan Pantai Batu Bolong No. 56, Canggu, to visit this market.
3. Kumbasari Art Market, Denpasar
You can find this multi-level art market at the heart of Denpasar, more precisely on Jalan Gajah Mada, standing alongside the Badung River.
4. Ubud Art Market
Come by this market after visiting Puri Saren and get distinctive Balinese handicrafts you may not find elsewhere.
5. Sukowati Art Market
It is one of the biggest and most popular traditional markets in Bali for souvenirs and other artsy things. Hard to miss, this four-level building sits on Jalan Raya Sukawati, Sukawati.
Looking for more recommendations? Give it a try at the Flea Market Seminyak, Guwang Art Market, or La Brisa Sunday Market at Echo Beach (Canggu).
Local Markets for Culinary Journey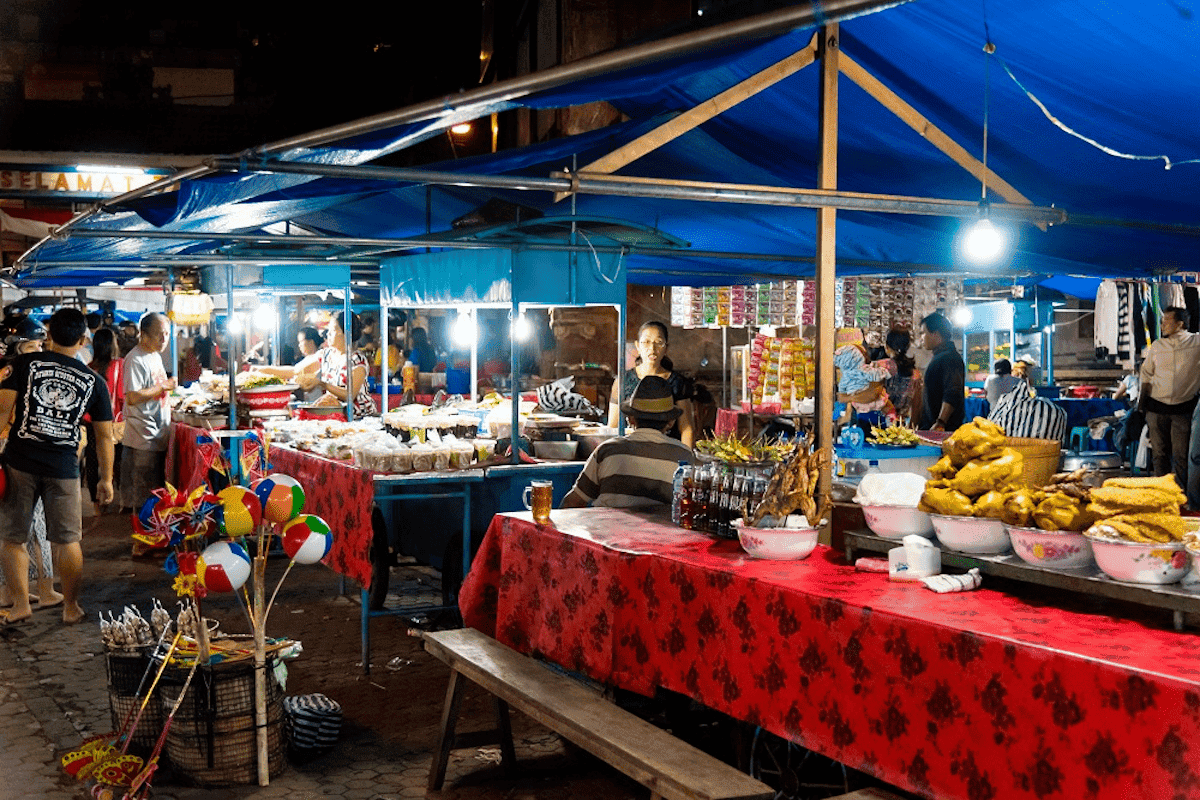 Photo by Bali Buddies
By the day, you can visit the following traditional markets in Bali to get fresh, organic produce, ranging from fruits, vegetables, spices, and groceries to meats, fish, chicken, dairy products, and more.
Coming back at night, some of the markets turn into busy venues for the ultimate night culinary experience. Among top destinations for foodie lovers, a myriad of stalls serve travelers' and locals' favorites like nasi campur, satay, babi guling, lawar Bali, and other traditional and street foods.
1. Badung Market, Denpasar
Open daily, you can find this market at Dangin Puri Kangin, Jalan Sulawesi No. 1, Denpasar.
2. Sunday market at Samadi Bali, Canggu
As the name implies, the market is open every Sunday from 8 am to 4 pm. You can head to Jalan Padang Linjong No. 39, Echo Beach, Canggu.
3. Kedonganan Fish Market, Jimbaran
A place to look for fresh fish supplies at value-for-money prices close to Jimbaran. The market location is on Jalan Pantai Kedonganan, Kedonganan, Jimbaran. It's open every day.
4. Sindhu Market, Sanur
The common local name for the night market is Pasar Senggol. One of the foodie enthusiasts' favorites with hundreds of food stalls, this market is located close to Sindhu Beach, Sanur.
5. Gianyar Night Market
Another heaven for food hunting bucket list in Bali is nestled at Jalan Kebo Iwa No.2C, Gianyar.
A must-experience to add to your itinerary, visiting a local market in Bali is similar to treasure hunting worth every penny. You can find a little piece of bliss amidst the local hustle and bustle.
People Also Read: 7 Cafes In Bali To Enjoy Indonesia's Best Specialty Coffee
If you are a reseller of products you necessarily buy overseas, take advantage of Flip Globe to make payments. This feature allows you to make transactions and transfer money to more than 55 countries in Asia, America, Europe, and Oceania. Not only more efficient and secure, but the fees are also affordable.