Any sensible traveler will urge you to try a country's street food to better "see its soul," Indonesia is no exception. Indonesian street food is sadly still less represented in global culinary trends. Since the country is known for its propensity toward hearty, richly flavored dishes, its street food will fit your palate perfectly.
Indonesia is a huge country with a giant street food catalog, but several dishes are considered the most common representations of the country. You can travel to almost any area and find numerous versions of these dishes. Here is a handy list of popular Indonesian street food for your culinary adventure.
People Also Read: Stepping Out Of Kuta: 7 Bali's Hidden Gems To Relax And Unwind
Nasi Goreng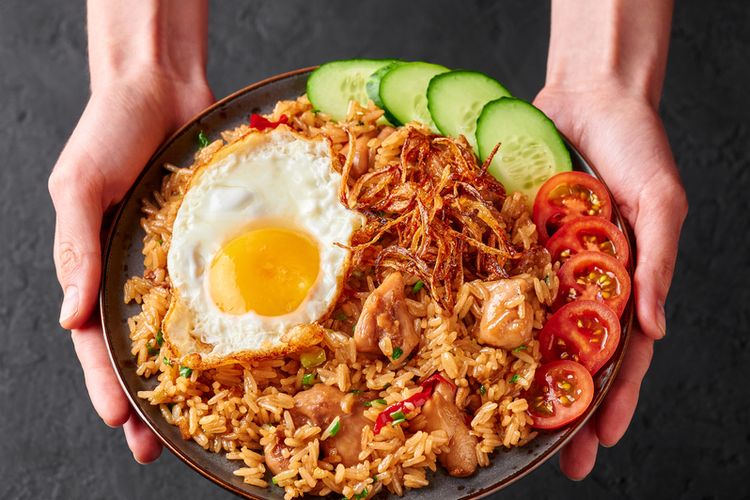 Photo by Kompas
Nasi goreng (fried rice) is the quintessential street food in Indonesia. It is hearty, flavorful, and easy to cook, with hundreds of variations in spices and toppings. You can find it at home kitchens, hawker carts, streetside stalls, mall food courts, mid-range restaurants, train cafeterias, and even luxury establishments.
Bakso
The simplest way to describe bakso is "Indonesian meatball soup," with the meatballs having chewier, more homogenous consistency due to the use of tapioca flour. This popular Indonesian street food is available from the simplest hawker carts to posh restaurants. Warm, savory, and hearty, a bowl of bakso is what you need on a chilly, rainy day.
Bakso sellers are dominated by Javanese people, with subtle variations depending on where the recipes come from. For example, bakso Malang usually has tofu filled with bakso and fried wontons, while bakso Solo is served with rice vermicelli and egg noodles. Some variations include bakso bakar (bakso grilled with sweet soy sauce) and bakso iga (bakso served with cow's ribs).
"Warteg" Rice Dish
Warteg or warung Tegal is a simple food stall serving rice with various side dishes (nasi campur). This type of rice dish has numerous regional variations, making it as diverse as the country itself. Warteg-style rice dishes are usually cheap and hearty, a favorite among people of all backgrounds and ages. Tourists also love eating in one of these warung to save money.
A typical nasi campur at a warung consists of rice served with vegetable dishes, protein like chicken, fish, or egg, plant-based protein like tempeh and tofu, and sambal. In Bali, a typical mixed rice dish may be served with protein cooked in Balinese spices, lawar (mixed vegetable dish), and sate lilit (satay made of ground beef or fish and skewered with bamboo sticks).
Satay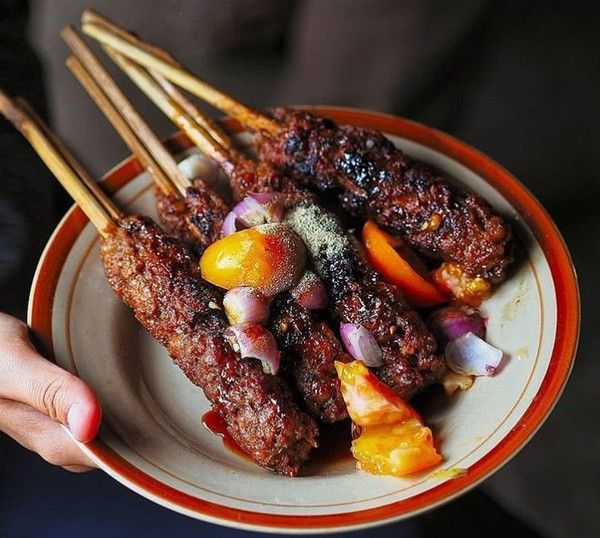 Photo by Hallokal
Satay or sate is one of Indonesia's most popular street foods, a common delicacy you can find almost anywhere. A typical portion of satay is served with peanut sauce, sweet soy sauce, sambal, and pieces of lontong (rice cake). The meat can be anything: beef, chicken, goat, innards, liver cuts, and pork, although the last one is less common due to Indonesia's large Muslim population.
Gado-gado and Rujak
Gado-Gado and rujak are Indonesia's answers for vegetable and fruit salads. Gado-gado is a warm salad that consists of mostly green leafy vegetables, bean sprouts, and rice cake, served with peanut sauce. You may get options for protein sides such as hard-boiled eggs, tempe, or tofu.
Meanwhile, rujak consists of fruits and vegetables like papaya, cucumber, water apple, starfruit, pineapple, and unripe mango. You may also get the one with pomelo, sweet potato, and bengkoang (jicama). The dressing is usually sweet, savory, and tangy, made with a mixture of Javanese palm sugar, tamarind, crushed peanuts, and prawn paste.
Gorengan
There is nowhere in Indonesia where you cannot get gorengan (goreng = "to fry"). This popular cheap street snack is basically a type of deep-fried fritter. Gorengan can consist of almost anything fried, but the most common are banana slices, cassava, tempe, bakwan (vegetable cake), and tofu.
Martabak
Martabak is another favorite Indonesian street food that shows the country's diverse influences. The food has roots in motabbaq, a savory stuffed pancake popular in Arabian Peninsula. Martabak consists of a folded pancake batter filled with eggs, chicken or beef, and chives before being fried until crispy and golden. You can find this snack at street hawker stalls at night, and you usually get options between chicken egg and duck egg for filling.
People Also Read: 5 Cellular Providers In Indonesia, Which One Is The Best?
Make all your financial obligations easier while having an Indonesian street food adventure! Use Flip Globe to safely transfer money from Indonesia to 55 countries. With the best rate and no hidden cost, Flip Globe is your solution for quick transfer abroad, wherever your destination is.