A hearty meal in a wonderful place with an amazing view is a perfect combination. What more can you ask for? Make your dream come true by trying some of the best restaurants in Bali that will leave you speechless with extremely exceptional dining moments.
It makes you hungrier to decide where to eat. So, we have done the hard work here and listed the best recommendations.
People Also Read: The Best Mall In Bali: Haven For Ultimate Shopping Experience
The Cave, South Kuta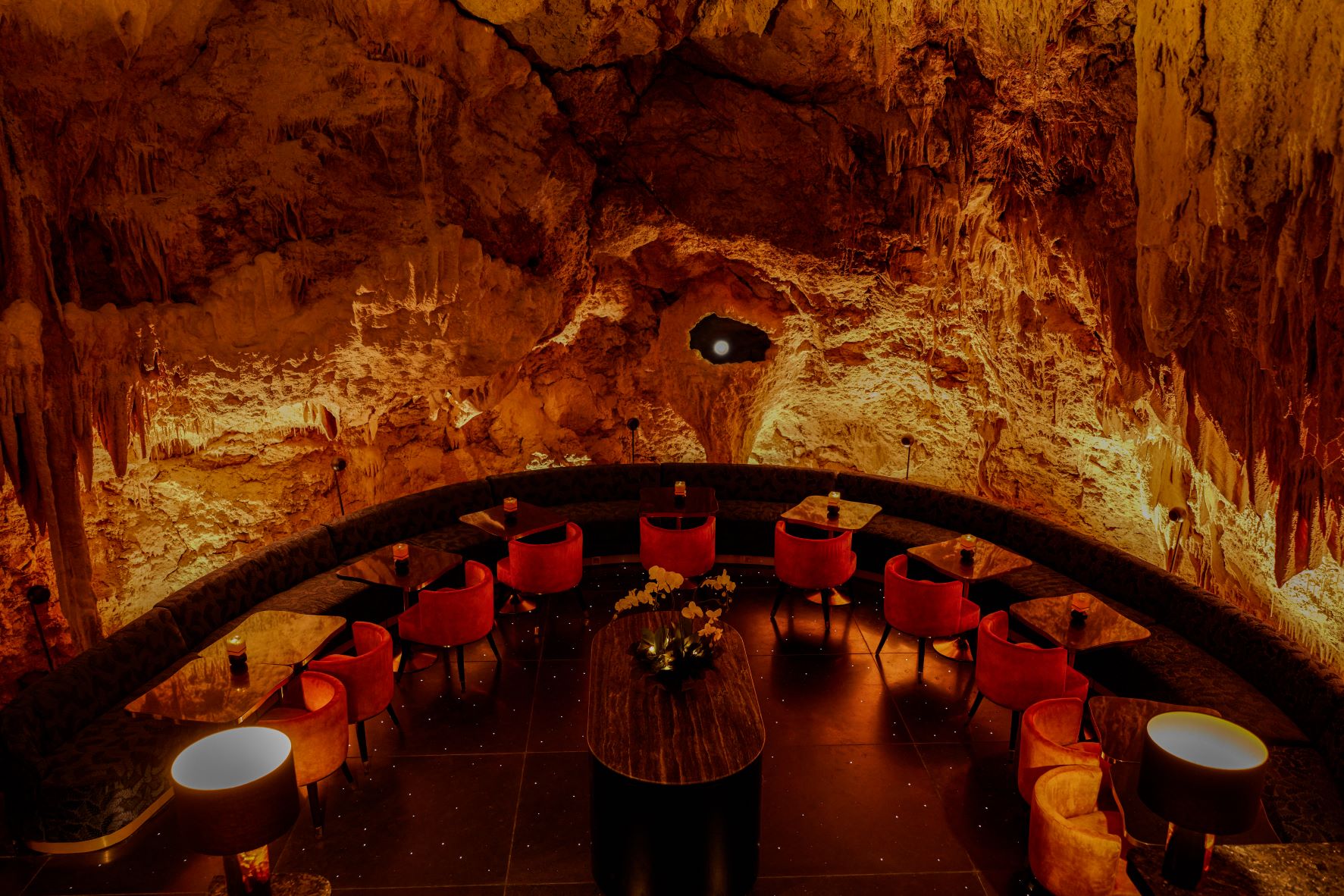 Photo credit: thecavebali.com
Fine dining inside a cave? Come to South Kuta, Bali, and experience it by yourself.
The Cave by Chef Ryan Clift is not merely an aesthetic name. It's literally a restaurant that sits in a real natural cave!
Discovered in 2023, this subterranean cave has been conserved and designed to offer an out-of-the-world fine dining experience. Upon entering, a dramatic entryway will greet you, leading you down a spiral stairway.
Twenty-two seats welcome the guests to enjoy award-winning modern gastronomy with a gorgeous view of semicircular walls and stalactites. Interlude projections add a more mysterious and surreal ambiance.
Perfect for intimate and romantic dinners, this restaurant serves a 7-course and 10-course avant-garde menu prepared by Chef Ryan Clift.
Where to go: The Cave by The Edge Bali – Jl. Pura Goa Lempeh, Banjar Dinas Kangin, Pecatu, Kec. Kuta Selatan, Kab. Badung, Bali.
Uma Garden, Umalas
When "fire cooking meets backyard conversations." That's Uma Garden, a fire-based restaurant with a literal open-flame grill, embracing a modest value of bringing together people over real good food and good vibes.
This restaurant is nestled amongst paddy fields and other encircling greeneries, escaping from the Seminyak's hustle and bustle.
As the name implies, Uma Garden has a magical-almost-surreal garden design, calling you to have a candle-lit dinner date or alfresco dining with families or friends.
Interestingly, everything on the menu is cooked primitively over a wood fire, allowing the true taste of each finest ingredient to sparkle.
Where to go: Jl. Umalas 1 No.8, Kerobokan Kelod, Kec. Kuta Utara, Kabupaten Badung, Bali
Golden Valley Breeze-Eco Cafe 1, Buleleng
It is one of the best restaurants in Bali that comes with an eco-friendly concept. Need more surprises? Golden Valley Breeze-Eco Cafe 1 comes with a shocking view of a waterfall!
You can enjoy scrumptious Indonesian specialties and the famous Luwak coffee while being 25 meters away from the gushing natural beauty that sprays the refreshing light mist.
Surrounded by the lush jungle, the place also blissfully grants you an unwinding ambiance of rustling leaves, chirping birds, roaring to calming flowing water, and more.
Mostly dominated by wood and bamboo as structures and interior design, this cafe has a 2-storey structure with thatch roof.
Where to experience: Munduk, Banjar, Kabupaten Buleleng, Bali
Gardin Bistro & Patisserie, Seminyak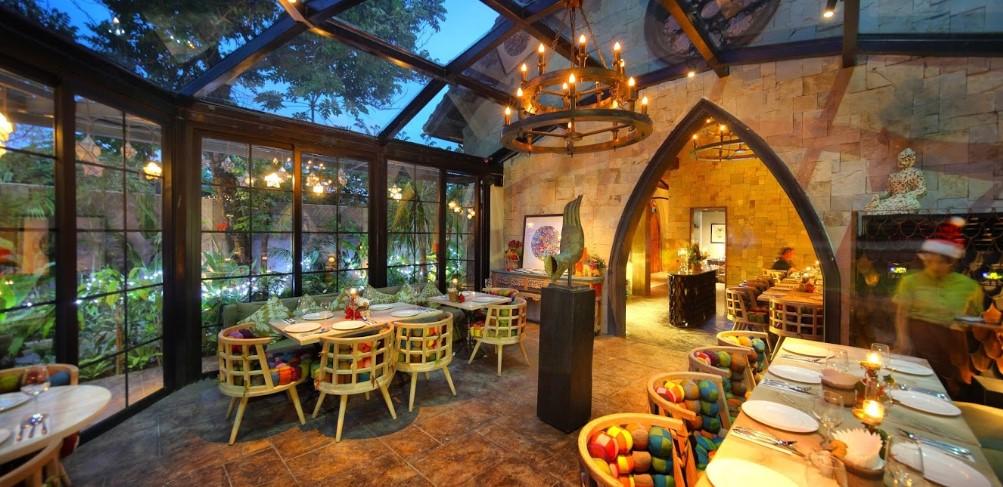 Photo credit: The Bali Bible
Another hidden gem in the middle of the lush forest and a tropical garden, Gardin Bistro & Patisserie can be your ultimate option for experiencing Bali and unique dining with a view.
As the name suggests, the word "gardin" is an old Northern French word for "garden." Having a semi-outdoor concept, this restaurant boasts a Middle-Aged gothic, European-style structure design.
Everything you see is lush tropical plants and greeneries surrounding the intimate and cozy main dining area. There are also the glasshouse and outdoor areas for a more romantic vibe. They pamper your eyes with the day's crystal clear blue sky and night's shining moon and stars.
Where to try: Jalan Petitenget No. 106, Seminyak, Kerobokan Kelod, Kuta Utara, Kab. Badung, Bali
Kamandalu Picnic, Ubud
Lunch, picnic, on the boat? Why not! Kamandalu Resort offers this unique dining experience for you and your loved ones.
By having this package – Picnic Lunch on the Boat – you will have an unforgettable moment of drifting along the calm lagoon Venice-like water amidst a lush tropical garden and jungle.
Not only lunch picnics, you can try an intimate dining experience on the boat as well. Browse the official website of Kamandalu Resort for other exceptional dining experiences with spectacular views.
Where to visit: Jalan Andong, Banjar Nagi, Ubud, Bali
Becoming one of the world's real foodie destinations, the best restaurants in Bali serve the finest local and global cuisines, not to mention pensive, remarkable views as the background.
People Also Read: Markets In Bali: The Local Vibe You Should Never Miss
The dining experiences are worth spending. Consider using Flip for easier payments and multi-transfer to top up your e-wallets. Or else, treat your family or friends to come by sending them a "vacation allowance." Flip Globe will help you with this international transfer, giving services to more than 55 countries worldwide at a lower rate and securely faster.