Finding fine dining establishments in Bali is not a difficult task. Bali food scenes are abundant with haute cuisine experiences, including for seafood lovers. From juicy grilled fish from the freshest catches to shellfish and lobsters in fusion dishes, here are seven fine dining restaurants that serve the best Bali seafood.
People Also Read: E-Wallet In Indonesia: What To Choose And How To Use
Seasalt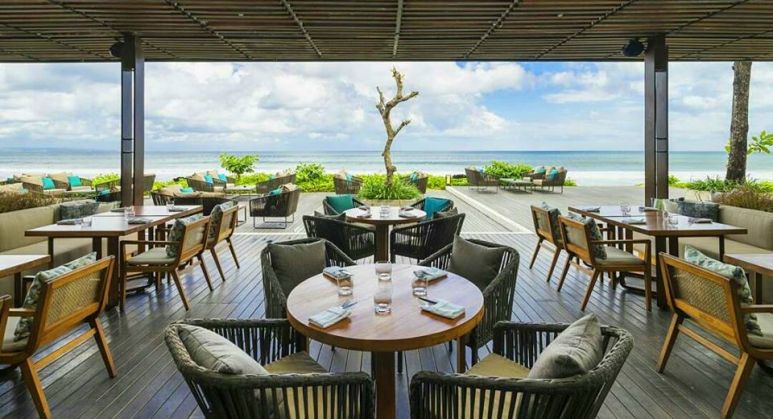 Photo by Tatler Asia
A notable fine dining space in Seminyak, Seasalt combines Japanese fusion seafood with a beautiful seaside location. The cozy décor and breezy ocean view make every bite more memorable. A perfect place for a date, cozy lunch, or romantic dinner.
Seasalt cooks its dishes with Kusamba organic salt from East Bali, where local salt farmers use centuries-old natural salt-making methods. The recommended menu includes steamed octopus cooked with yuzu radish and eggplant, crispy prawn miso, and baked snapper.
Sardine
Dubbed one of the best restaurants in Bali regarding seafood, Sardine combines rural charm with the fine dining experience. This restaurant is located in Petitenget, has a cozy atmosphere, and faces a beautiful rice paddy. The menu combines fresh seafood with local organic produce.
We recommend dishes like mussels with parmesan and garlic or lobster bisque served with homemade sourdough bread. You can order delicious seafood like scallops, yellowfin tuna, and king prawns for main items. Do not forget to order Sardine's specialty: lobster steamed in bamboo!
Fisherman's Club
Fisherman's Club is a famous Bali food scene in Denpasar, especially for seafood lovers. The restaurant offers a cozy luxury, combining traditional elements in its constructions with the best fine dining atmosphere. Its signature visual is several long tables shaped like boats, adding a unique touch to your dining experience.
Fisherman's Club serves dishes of the freshest local catches, with organic ingredients and local spices. The grilled options are cooked in traditional methods, using coconut husks. Fisherman's Club offers the Seafood Market experience, where you can visit the restaurant's fish market and have your fresh selection guided by the chef.
Otherwise, order from Fisherman's Special's recommendations, like barramundi cooked in banana leaf, steamed grouper, or grilled squid. Enjoy them while looking at the beautiful sunset.
Ijen
Eating at Ijen is how you can enjoy the best food in Bali while following a zero-waste lifestyle. Located in Kerobokan, Ijen serves fresh seafood caught with the hand-reeling method. The grilled items are cooked on wood, complemented by local vegetables and spices.
The recommended menu includes delicious grilled items like king prawn, baby squid, and snapper. You can order delicious cocktails and mocktails with your meal while enjoying the beach atmosphere. Plus, the waste from your meal goes to the local farms and composting sites!
Bonito Fish Bar
Elegant and modern, Bonito Fish Bar brings the freshest catch of the day directly to your table and even a shopping bag! The chefs cook your selected menu items and cut your choice of fresh seafood to take home.
Delivering the best food in Bali for seafood lovers, Bonito Fish Bar serves an elevated favorite menu, from fish and chips to fresh seafood platters. For something heartier, try the roasted octopus or the zuppa di mare. You can also order the Taste of Bonito, the chef's special selection of menu created to showcase the best ingredients and cooking techniques.
Ah Yat Abalone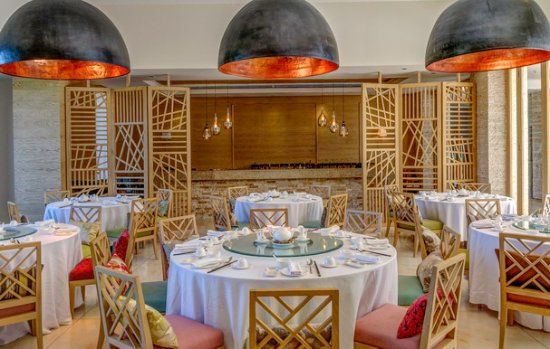 Photo by TripAdvisor
Ah, Yat Abalone brings the classic Cantonese dishes into the modern setting of the Bali food scene. Aside from its famous dim sum, you can pick from dozens of fresh seafood in its live tank. From classic favorites like snapper and prawns to the more adventurous options like abalones and sea cucumbers, Ah Yat Abalone brings amazing seafood adventures to Jimbaran.
Kisik Seafood Bar & Grill
Kisik Seafood Bar & Grill brings the Jimbaran seafood scene into a more luxurious setting. Its outdoor dining area has beach sand, and you can choose fresh fish directly from the basket or fishing boat! However, fresh seafood is not the only delight you can experience.
The "bar" part of the restaurant serves classic and tropical cocktails and Bali's local spirits. Traditional drinks like sagi, Brem, and Arak are mixed in delicious cocktails to accompany your seafood orders. All are served in a cozy, modern restaurant built on the private beach in Jimbaran.
People Also Read: 7 Best Jakarta Restaurants For The Ultimate City Experience
Enjoy your Bali food adventure without thinking about any financial obligations. Use Flip Globe to send money from Indonesia to 55 countries fast and without hidden fees. Even during a seafood adventure in Bali, Flip helps you with any transactions you need to finish immediately.