Speaking of Bali, most people generally think of stunning beaches and cultural richness. Yet, a lesser-known gem on this lovely Indonesian island is the Bali Comedy Club. In short, it's a club where people can delve into the realm of stand-up comedy.
People Also Read: 7 Cafes In Bali To Enjoy Indonesia's Best Specialty Coffee
Diverse Comedic Community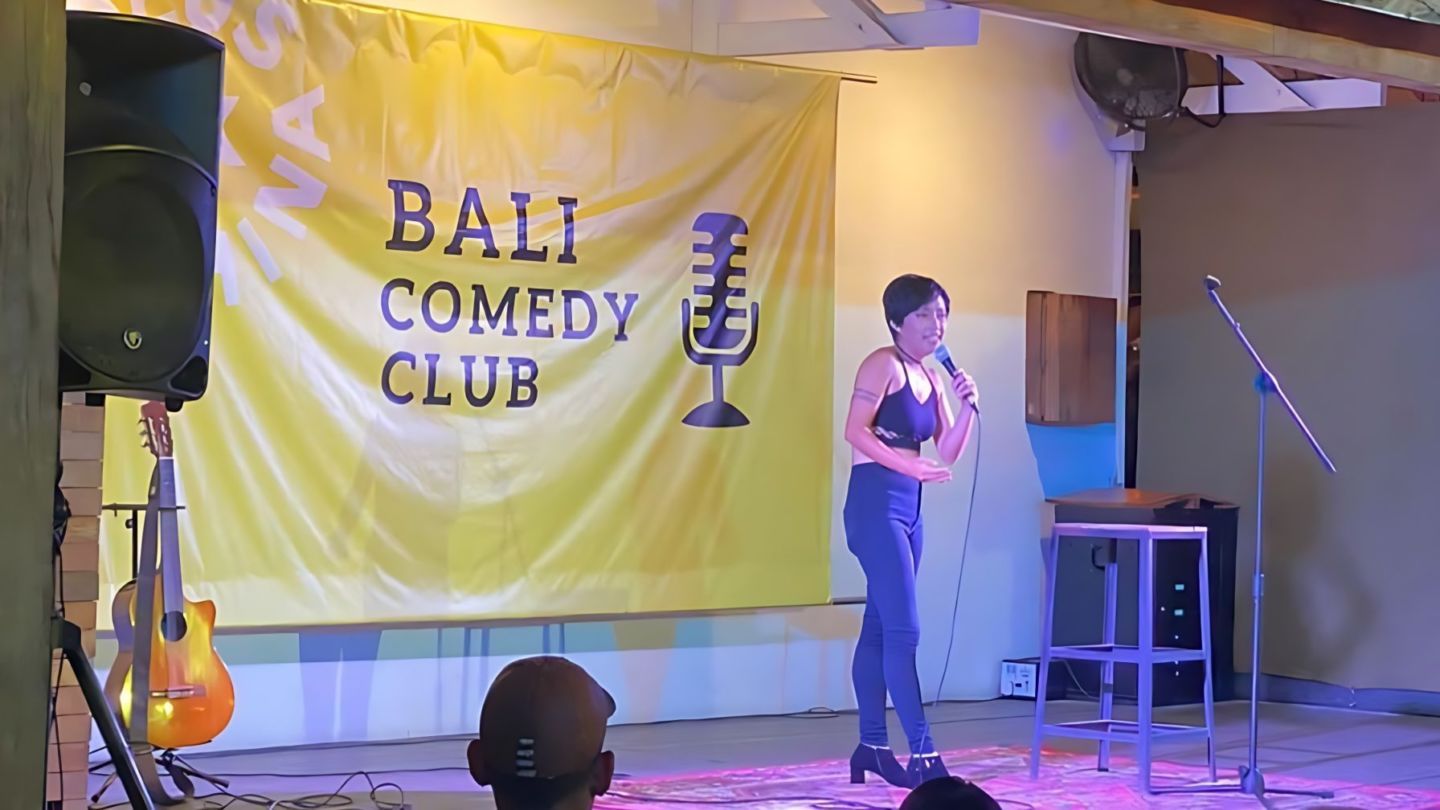 Photo credit: Coconut
Imagine you were in a room packed with laughter from people from all around the world. The weekly gatherings of Bali Comedy Club bring together a diverse range of personalities for the love of stand-up comedy. It's also where a snarky Chinese-Indonesian who no nonchalantly delivers jokes about everyday life rubs shoulders with a former French bodyguard who specializes in foot-related humor.
But what actually distinguishes Bali Comedy Club is its welcoming and feedback-driven culture. Experienced comedians and newcomers in stand-up comedy gather here to hone their skills and make audiences laugh out loud.
Christian Giacobbe, the founder of Bali Comedy Club, shared stories of comedians devoting months, if not years, to perfect their performances before entering the stage. Despite the laid-back environment, input is taken seriously. It's all part of the learning process; comedy is about perseverance and resilience.
One of the best things about this comedy club is that it doesn't force comedians to perform. Whether you are foreign or local comedian with exceptional English capabilities, you are free to attend as many workshops as you like until you are ready to perform. It's a place where comedians can learn and have fun at their own pace before making the audience laugh.
Comedy Scene in Bali
Bali's comedy scene, stand-up comedy, is booming, and Bali Comedy Club is at the forefront of this revolution. Comedy is a relatively new addition to the island's cultural environment, but it is gradually gaining popularity.
Bali could become the hub for English-speaking stand-up comedy in Southeast Asia. Although Indonesia falls behind its neighbors Malaysia and Singapore in producing world-class comedians, Bali's appeal is apparent.
Community and Growth
Despite the competitive nature of comedy, Bali Comedy Club seems like a family. Comedians, both experienced and newcomers, grow together. It's a welcoming community where everyone values constructive criticism.
Comedy on the island of Bali has its own distinct flavor. Its broad audience of locals and tourists from all over the world poses an exciting challenge. Comedians in Bali Comedy Club strive to write jokes that are universally understood, taking into consideration different levels of English skills.
A seasoned comic, Annie Yang, says that jokes about Bali used to be easy to land, but with the rising number of visitors, not everyone can grasp the local references. Despite the language barrier, the Bali audience is fairly open-minded and accepts all styles of humor.
New Home and Opportunities
Wonderful news! The Bali Comedy Club has relocated to the Finns Recreations Club in Berawa, Canggu. On Fridays, you can enjoy comedy specials; on Saturdays, the club usually holds experimental comedy nights. So, if you are looking for a new experience while in Bali, don't miss out on those nights. Consider following the official Instagram account of the club at @balicomedyclub to get updates on their new shows.
To conclude, Bali Comedy Club is more than just comedy; it's also about building connections and spreading jobs. Bali's comedy culture thrives in a world where laughing is a global language. Bali Comedy Club is no longer a hidden gem but rather a laughing hub that guarantees to make everyone from different backgrounds and cultures grin and laugh.
People Also Read: Markets In Bali: The Local Vibe You Should Never Miss
In an often serious world, Bali's comedy scene delivers much-needed levity. So come along for the ride and explore the side of Bali that is all about laughing—it's the finest medication you never knew you needed. And to make the most of your stay in Bali, consider using Flip Globe from Flip.
Flip Globe is a service that allows you to efficiently and securely transfer funds from Indonesia to more than 55 countries in Asia to America. The transfer fee is fairly affordable, with no hidden fees. Best of all, Flip Globe offers a competitive rate that is even cheaper than Bank Indonesia's selling rate and exchange rate at conventional banking institutions.